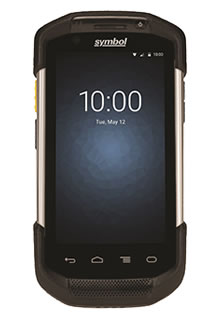 Handheld Mobile Computer
Lavorare in modo pił efficiente e meglio servire i clienti, dando ai dipendenti di classe enterprise computer palmari durabili nel tempo e permettano di comunicare e accedere alle informazioni in tempo reale.
Caratteristiche tecniche
OS: Android™ AOSP 4.4.2 (KitKat)
Memoria: 1 GB RAM / 8 GB Flash pSLC
Processore: 1.7 GHz dual core processor
Display: 4.7 in. High Definition (1280 x 720); exceptionally bright, outdoor viewable; optically bonded to touch panel
Lettore barcode: SE4750 imager (1-D and 2-D);
Bluetooth Bluetooth v4.0 (Bluetooth® Smart technology)
WLAN IEEE ® 802.11a/b/g/n/d/h/i
4G: 4G / LTE (solo TC75).