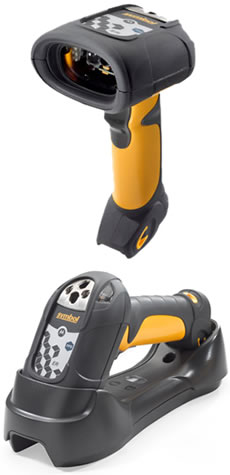 Cordless 1D/2D Imager Scanners with Integrated Bluetooth
I lettori appartenenti alla serie DS3578 sono progettati specificatamente per ambienti di produzione. Grazie all'esclusiva tecnologia del sensore CMOS, sul quale è basato l'imager digitale, i codici vengono identificati molto più velocemente di ogni altro digital imager sul mercato. Il potente microprocessore a 624MHz decodifica codici 1D e 2D in pochi millisecondi, indipendentemente dalla dimensione e dalla densità. La lettura omnidirezionale consente all'operatore di catturare il codice da qualsiasi angolazione, evitando di dover allineare il lettore al codice a barre.
Caratteristiche tecniche
Tecnologia: Imager
Decodifica: 1D/2D/PDF417, See data sheet for full list of supported symbologies, DPM
Interfacce supportate: IBM, Keyboard wedge, RS-232, Synapse, USB
Cordless: Yes
Peso: 391 g.
Bluetooth: Class II Version 2.1, Serial Port and HiD Profiles
Alimentazione: 2200 mAh lithium Ion Battery
Colori: Twilight black, Yellow
Possibili configurazioni
DS3578-SR: 1D/2D
DS3578-HD: 1D/2D, optimized to capture very small, high-density 2D bar codes
DS3578-DP: 1D/2D bar codes; DPM marks; IUID support.